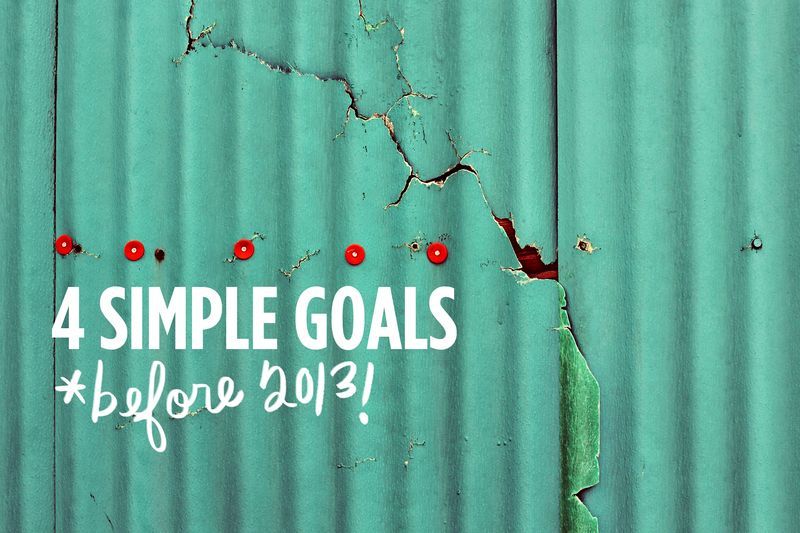 Elsie over at
A Beautiful Mess
created a fun challenge for her readers! Four simple goals before 2013 is a fun way of staying inspired and on track during the upcoming season. I always feel these surges of energy and creativity during this season change, and I'm completely down for this challenge! Especially since they're "simple goals", things to make your life feel more full and happy. Here are mine!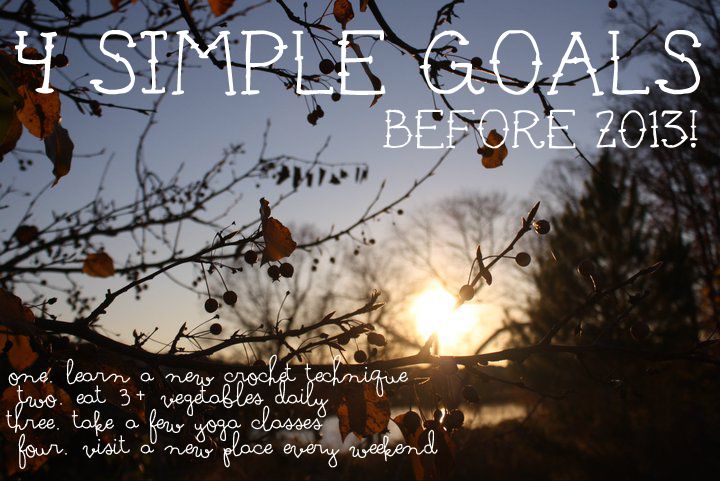 1. Learn a new crochet technique - Right now I'm working on a gray circle scarf for myself, and when that is complete I'm going to take on crocheting beyond single and double crochet. Video tutorials on Youtube should definitely come in handy for this!
2. Eat 3+ vegetables daily - This should be easy, considering I eat a salad almost every single day. But seasonal vegetables like squash, brussels sprouts and yams are so delicious and will help me accomplish a bigger goal - learn more recipes.
3. Take a few yoga classes - It'd be great if I could get into a weekly yoga class, and especially bikram every once in a while. My schedule gets nutty, but I need to make more time for my mental and physical health. Yoga is perfect for reflecting, and releasing all of that negative energy.
4. Visit a new place every weekend - I'd start on this right now, if I weren't having an Arrested Development marathon while waiting for a special someone's birthday bicycle to arrive at our door. I've barely broken the surface of Nashville as far as exploring and adventures go. There are one million cafes and coffee shops and boutiques and parks just begging me to visit. I'm going to make a point to do this every weekend and fully immerse myself in my city.
If you decide to partake in this Four Simple Goals challenge, let me know! I'd love to read yours. And also share your links with
Elsie
, because they're going to select a few readers goals to feature on
A Beautiful Mess
! Which is one of my favorite, most inspiring blogs.
Here's to staying fulfilled and motivated this season!