I haven't done one of these in a while, but this past Sunday I struck gold at Southern Thrift. Not two, not four, but SIX color tags were half off this weekend! It felt like Christmas.

Maybe too much like Christmas, because I wound up mainly buying big chunky sweaters :)
Tell me that eagle crest is not totally rad? I've been finding a lot of amber colored home goods and trinkets, which is great because it's pretty much my favorite color.
Lately all I want to own and wear is cable knit? Conveniently I found this basic black sweater for just around $2. The gray thing is sweatshirt material and hooded. The lazy girl in me could not help but bring that home for cold days in the office when I don't want to look like a total bum.
Belts! And a bucket that will serve as a home for a future plant.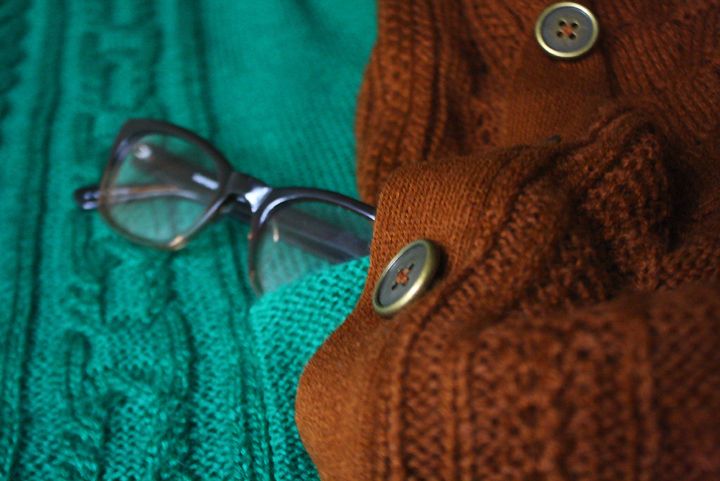 These sweaters weren't thrifted. The green one (which is definitely a kelly green in real life) is from Urban Outfitters and the brown cardigan is from Forever 21. Just further proof that the cable knit bug has bitten me hard. It's all stemming from Mad Men. I can't wait to wear these with ankle length black skinny slacks (so many adjectives!) and embody the goddess that is Megan Draper. The frames are from my recent
Tortoise & Blonde
home try-on kit. The style is called Rivington, and they will be mine. Oh yes, they will be mine.
Then I decided, since I'm sharing, here are two more fantastic items I've picked up recently during Free People employee appreciation. The shorts will be paired with tights and boots this fall (and cost me ELEVEN dollars) and that scarf? Yeah that's just an American flag print with dogs all over it. Just the most awesome scarf ever, that's all.
xo, Corinne