Here it goes, my first ever outfit post. I'm really into the idea of keeping up with this for a variety of reasons. One being confidence. I fell into an early winter slump of wearing jeans and hoodies to work and covering my messy (not in a good way) hair in hats. I got the idea from
Meredith's
"Blogging For Confidence" series. At first I just applied it simply to my daily life, dressing up more and wearing some eyeliner for a little boost throughout the week. Then, upon expanding my collection of photo equipment, I had an a-ha! moment once I conjured up the idea of a tripod, a remote, and me
wherever
I'd like to be photographed lookin' pretty (I have a mental list of so many great spots already!). I don't need to nag Andrew about angles or composition or making him retake photos all together, I can do this myself! Unless he'd like to help sometimes ;) More inspiration for this came from my love of clothing. You can ask anyone who knows me well enough and they will tell you that a really large portion of my monthly income goes to shiny, pretty new things. I have a closet and drawers full of outfits I haven't even styled yet, a lot of pieces I've never even worn. Now I can get really creative and share! It'll motivate me to keep on keepin' on, learning more about my personal style and dressing expressively, and saving my hoodies for snug time on the couch.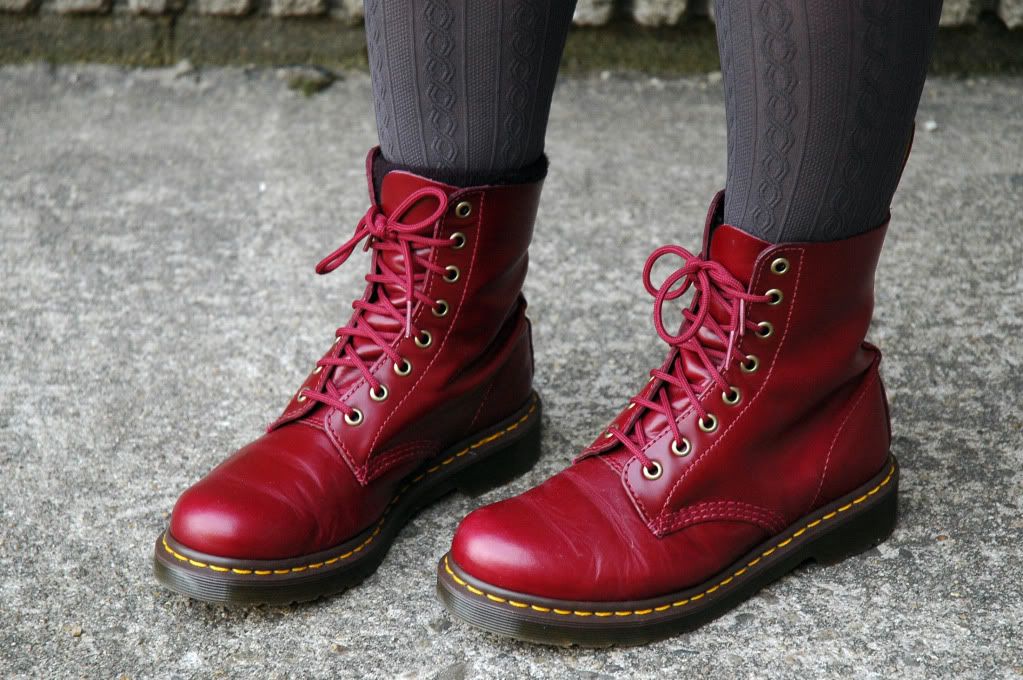 I talked
Rob
into running outside in the 27 degree weather with me to snap a few shots of this outfit. I had just bought this dress over the weekend, and the boots were an incredibly awesome Christmas present from Andrew. I felt pretty and also kinda bad-ass, to be honest. I thought it'd be a nice introduction to my personal style. We took these in less than 10 minutes, one shot of each detail, and ran back inside because it was FREEZING. I've been blessed to have such a rad office buddy, always helping me out.
( Dress - H&M,
Tights
- Target,
Dr. Martens Pascal Boot
in Shiraz)
Phew, the whole process has been virtually pain free (aside from frozen fingers!) and I'm really excited to share this very simple, but very me outfit. More to come once the aforementioned tripod and remote arrive at my door!