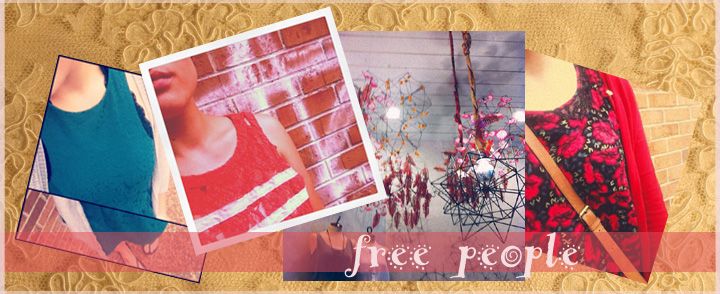 As I've mentioned (a few times!), I've recently become a stylist (which is a rad way of putting "sales associate") at Free People! It's a part time job that I work on nights and weekends, but it's really become my favorite thing to do. Already I've met such interesting and genuine girls, and that's a total perk since I'm still new to Nashville and work a 9-5 as an office manager with middle aged men. I met Melanie, who I've also mentioned, who is my most favorite new friend ever. And on top of the social aspect, Free People is so colorful and fun. If you've ever been in a store, you know it's an airy and almost whimsical experience (that will be the first and last time I ever use the adjective "whimsical", don't worry). Not to mention the discount! I've already started making over my wardrobe with some Free People pieces (which I've justified with frequent trips to Plato's Closet to sell clothing I've held onto but never wear). Today, while taking a break from monotonous data entry at my "real job", I got onto the website and instead of heading straight to the BLDG 25 blog, I browsed the Pre-Fall collection. Six items really stuck out, and in typical "me" fashion I've decided to share!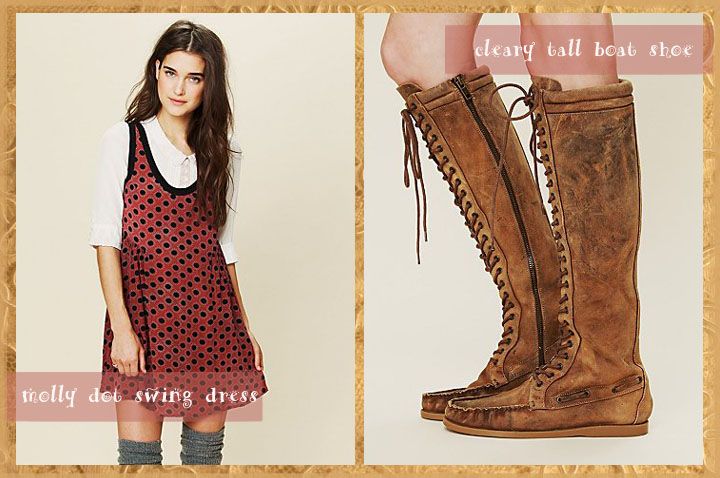 Molly Dot Swing Dress
: Really, everything about the way they styled this dress is perfect to me. It's totally "back to school", which is something I still hold dear - even as an elementary education major college dropout. Pretty sure this dress is a definite "to buy" given how layer-friendly it is.
Cleary Tall Boat Shoe
: I have a pair of faux-leather riding boots that desperately need replacing. These boots are such a fun mix of riding boot/moccasin/boat shoe. I think I love them.
Vegan Leather Hoodie
: From what I'm hearing, it's basically hoodie weather all winter long here in Nashville. This hoodie is the perfect combination of bad-ass and comfy, and I think I could rock it. There's a pair of vegan leather shorts currently on clearance in our store, and they're so smooth and buttery (that's how you describe soft leather, right? "buttery"?). Could become a staple!
Colored Skinny Jean
in khaki green: A standard. I've been searching for good khaki skinny jeans for over a year now, and if these fit like the
Printed Ankle Skinny
, then they're perfect. They come in a few more colors too!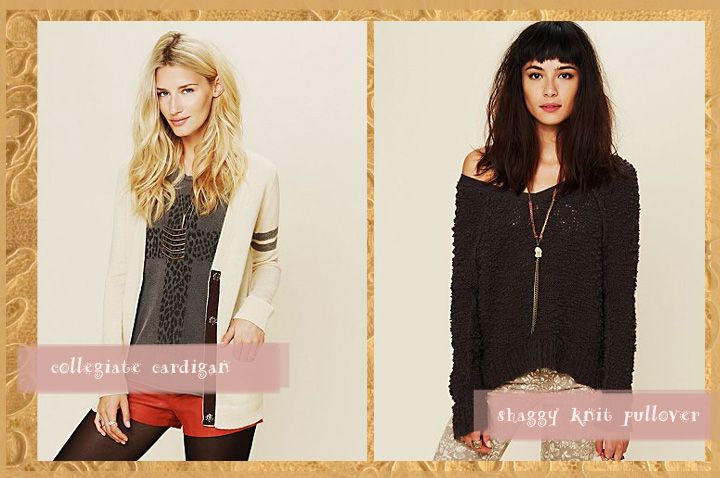 Collegiate Cardigan
in buttercream &
Shaggy Knit Pullover
in driftwood: Fall and sweaters are pretty much synonymous in my mind, so these pieces just make sense. I've been into the letterman jacket thing for a while but can't seem to find one that doesn't make me look like I'm auditioning for Grease. And that pullover, ugh. I think I speak for all of Free People Nashville when I say we
need
these. It looks like a pretty, wearable cloud, or with my color selection, smog, but whatever.