Recently, during her last visit, Andrew's sister Michelle told me about some cake pops that she made herself. I've seen these little treats popping up everywhere (no pun intended) and decided that it would be fun for us to make a batch together. Wanna try? This is what you'll need:
Cake mix
3 eggs
Vegetable oil
Almond bark
Lollipop sticks
Wax paper
Sprinkles!
First you go about baking regular cakes (we made two 8" cakes), but add 3 tbsp. more oil than the recipe calls for. This is important for making the cake more pliable and shaping it into pops. Let the cake cool, and then TEAR IT APART! and put all of your cake crumbs into a large bowl. Then take a handfull at a time and make cake balls, just like you'd make meat balls. Pop a stick in the center and freeze your halfway finished pops for an hour.
Then, break your
almond bark
into squares (almond bark is basically just a huge rectangle of meltable chocolate that you can buy at most craft stores or baking aisles) and melt it down using the
double boiler method
, or you could just stick it in the microwave. Once your almond bark is almost liquidy, take your frozen pops one by one and roll the cake around in the coating. Pour some sprinkles over them if you're feeling fancy. Have a wax paper lined cookie sheet handy for resting the pops on. Let them harden for about a half hour. And there you go!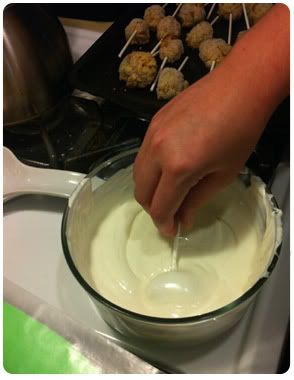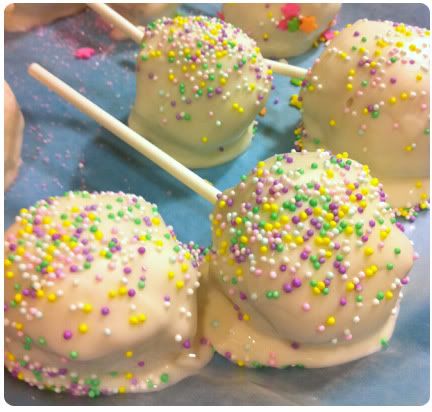 These were so fun and easy to make, and also delicious! But the next time I make them, I'll be using styrofoam to hold the pops upright as the almond bark dries, so one side doesn't come out flat and I can put Starbucks' cake pops to shame.
It's been a pretty relaxing Sunday. Spent the morning on a hunt for an affordable juicer. Bought a new sweater instead (desperately waiting for fall, the season where I thrive most). Also today is a celebration! The 100th anniversary of Lucille Ball's birthday.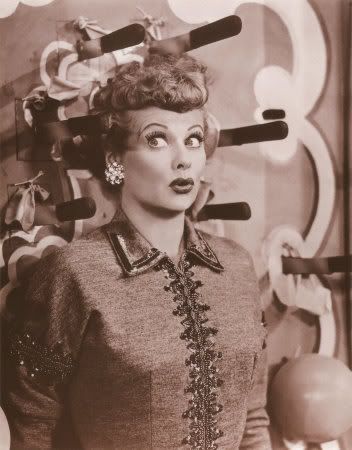 Happy birthday, Lucy!